apartmentsnearphilly.com

MERCHANTVILLE (VACANCIES) two 1 bedroom apts. (call Craig)
Victorians in Merchantville
LOFT 1 Bedroom, 3rd Floor, $800 + util.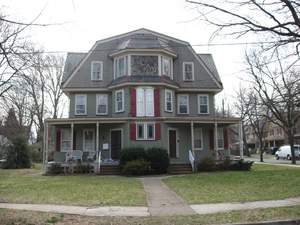 Storage

Both apartments are attractive one bedroom apts. in this quiet Victorian building. Enter on the left into a semi-private anteroom and open oak staircase. Keep your bicycle behind the stairs. A storage closet is in the upstairs hallway.
The 2nd floor apartment is 700 sq. ft. with Victorian oak woodwork and built-in bookcase, old-fashioned iron radiators (thermostat controlled), lots of windows overlooking trees and lawn, a quaint bathroom with a claw-footed tub, and a large eat-in kitchen (11x17) that steps out onto a private sundeck with a staircase down to the yard. The apartment has central air conditioning, a washer/dryer, dishwasher and storage. The rent is $825 which includes water and sewer. Electric and gas are paid separately. Heat, hot water and stove are energy-efficient gas, averaging $45 per mo.
The 3rd floor LOFT apartment is 600 sq. ft. (plus 100 feet of attic storage) also with Victorian woodwork, iron radiators, thermostat, lots of windows, totally Victorian bath, central air, washer and dryer and a storage attic. Rent is $800 plus utilities.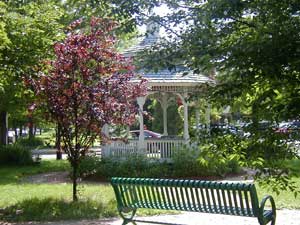 Enjoy the peacefulness of Merchantville from your 2nd floor sundeck or front porch or while walking along the historic "Cattell Track" of Victorian homes on the Rail-to-Trails walking path. The train station is now an engineering office.
Riverton on the Delaware
High Ceilings

Hardwood Fls

Air Conditioned

Washer/Dryer

Dishwasher

Gas Fireplace

Pvt. Parking Lot
Watch the yachts and sailing regattas from your window. The apartment is a high-ceiling, two bedroom on the second floor of this beautiful waterfront Victorian mansion. It has pine floors and quaint, toasty steam heat. Newer kitchen, tiled bath, air conditioning, washer & dryer, dishwasher. Enter through double doors into a quiet hallway with a wide, open staircase.
Contact: Maryann 609 304 3621 205 Bank Ave, Riverton NJ

Palmyra Quiet Living
PALMYRA Very Large 2 Bedroom, 1st Fl., $1,150 + util.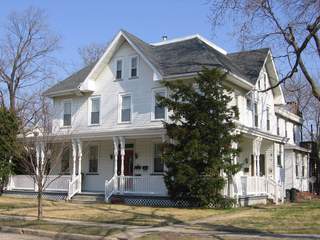 Very large 2 bedroom apt. on 1st floor with newer kitchen, den, dining room, deck, yard, front porch, storage, air conditioning, washer/dryer, & dish washer.
Call Maryann
609 304 3621
Merchantville is a safe, prosperous small town having nice homes and a commercial center with everything from banks, barber shops and churches to chocolates, cafes and fine wine. The Cherry Hill mall is three minutes away and downtown Philadelphia is ten.
The Delaware River Light Rail is $1.10 from Camden to Trenton every twelve minutes and a $20 transfer onto NJ Transit R/R expresses directly to Manhattan. Merchantville does not know the meaning of "traffic jam" except on Antique Auto Show and Arts Festival weekends. It is "Tree City USA".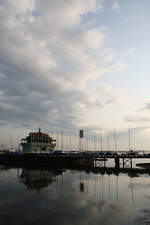 Riverton is a charming, historic Victorian town on the banks of the Delaware River. Its picturesque, stately homes and tree-lined streets with gas lamps leave a lasting impression on all who visit. The riverbank complemented by the Riverton Yacht Club, the oldest yacht club on the Delaware, and the village-like atmosphere of the center of town with its quaint shops and eateries is perfectly situated just one block from the Riverline station and 20 minutes by car from Center City Philadelphia.
Palmyra is a quiet town on the Delaware just below Riverton complete with a high school serving the region. It is a cost-effective home for families.

OWNERS:

Craig Gaskill, 102 E. Chestnut Ave, Merchantville NJ. 856 486-0283
Maryann Shea, 205 Bank Ave, Riverton NJ 609 304-3621